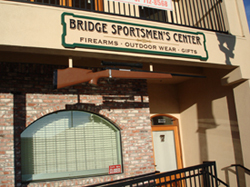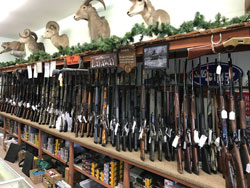 (805) 239-GUNS (4867)

1319 Spring St.
Paso Robles, CA. 93446

Business Hours:

Wednesday-Friday 10:00am - 5:00pm and Saturday 10:00am - 3:00pm


Browning . Ruger . Benelli . Smith & Wesson . Colt . Kimber Springfield . Remington . Taurus . Glock . H&K . Beretta . Walther .Weatherby . Winchester


Bridge Sportsmen's Center is a retail Gun Shop, family owned, operated, and licensed since 1964 at the same location.

We specialize in carrying top quality firearms and accessories for the hunter, target shooter and outdoorsman. We buy and sell Used Guns and we do Consignments.
We hope you will find our web site useful in your search for firearms or hunting supplies. If you live in the San Luis Obispo County area, or come to Paso Robles for business or pleasure, please stop by and visit us at our store.